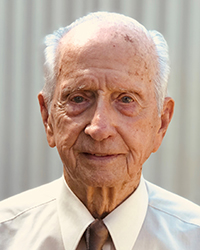 ---
Assorted Admonitions: All Rivers Are Crooked
by Bill Reeves
Synopsis: Before his recent death, brother Reeves submitted this compelling article, challenging readers to avoid the path of least resistance, which is seemingly peaceful but ultimately perilous.
---
It is rare that a river, even at times, is straight. A noticeable feature of rivers is their winding, serpentine course. There is an explanation for their crooked path. Rivers become crooked by following the course of least resistance. If there is an obstacle, the river naturally flows around it. Water never flows uphill! Gravity works on it until it reaches the sea. Our country has a "western divide." Rivers west of it flow eventually into the Pacific Ocean and those to the east flow into the Gulf of Mexico or the Atlantic Ocean. They all follow the course of least resistance.
Like the river, the majority of people today and in all ages has been those whose conduct is determined by the course of least resistance (laziness, slothfulness, and unnecessary obesity are widespread in our country). What is meant by the phrase, "the course of least resistance" It signifies the easiest way out, the course that is least antagonistic and perhaps most popular, one that comes with the least effort.
In matters of opinion and expediency, this may be a desirable approach. Attempting to solve the problem that had arisen between his herdsmen and those of Lot, Abram said, "Please let there be no strife between you and me, nor between my herdsmen and your herdsmen, for we are brothers. Is not the whole land before you? Please separate from me; if to the left, then I will go to the right; or if to the right, then I will go to the left" (Gen. 13:8-9). However, in matters of faith and morality, the easy path is rarely (if ever) the right path.
In doing the will of God, we usually are not permitted to follow "the course of least resistance." Unlike water, which seeks its own level, Christian endeavor to rise to a high level. Our goal is to manifest the mind of Christ (Phil. 2:5-8). Our focus is not on earthly things, but on the things that are above (Col. 3:2).
What moved Noah to remain faithful to God in the midst of a wicked world? Hear the writer of Hebrews: "By faith Noah, being warned by God about things not yet seen, in reverence prepared an ark for the salvation of his household, by which he condemned the world, and became an heir of the righteousness which is according to faith" (Heb. 11:7).
As river waters are moved by gravity, all of us are moved (motivated) by something! What motivates us in life? The NKJV says Noah was moved with godly fear (Heb. 11:7). The NASB says his obedience was rooted in "reverence." Similarly, we should serve God with "fear and trembling" (Phil. 2:12).
"Noah found favor in the eyes of the Lord" (Gen. 6:8). Why? The answer is found at the end of the chapter: "Thus Noah did; according to all that God had commanded him, so he did" (v. 22). When God gave Noah instructions for constructing the ark, he didn't argue with the Lord, or propose substitutes, or innovate novelties (Gen 6:14-21; cf. Acts 5:36; he did not engage in "fighting against God"). Instead, Noah obeyed God's commandments. He did as he was told!
While it is natural for a river to take the course of least resistance, this approach has no place in the life of a Christian. Only the unrighteous are like rivers: their lives follow a downward and crooked course to eternal damnation. Hebrews 11 refers to faithful men and women. After the phrase "by faith," we seea verb of action, which indicates their obedience to God. Like the heroes of old, let us walk by faith (2 Cor. 5:7), so that, when our days are over, it might also be said of us, "these died in faith" (Heb. 11:13). May we desire a better country, that is, a heavenly one (Heb. 11:16).
Rivers do what they are made to do, which is natural, but man is made in God's image (Gen. 1:26) and possesses the power of reason. In Romans 12:1, Paul says, "Therefore I urge you, brethren, by the mercies of God, to present your bodies a living and holy sacrifice, acceptable to God, which is your spiritual service of worship." Consider the Greek word translated "spiritual" in the previous verse. The footnote in the American Standard Version says, "Greek: belonging to the reason." A Christian uses his reason when he presents his body as a living sacrifice, holy and acceptable to God. Man can reason: "Come now, and let us reason together," Says the Lord, "Though your sins are as scarlet, They will be as white as snow; Though they are red like crimson, They will be like wool" (Isa. 1:18).
We have the ability to make choices: "If it is disagreeable in your sight to serve the Lord, choose for yourselves today whom you will serve: whether the gods which your fathers served which were beyond the River, or the gods of the Amorites in whose land you are living; but as for me and my house, we will serve the Lord" (Josh. 24:15).
Yes, rivers are crooked, their meandering course is anything but straight. However, man is not a river, governed by the laws of nature. He is made in the image of God, and capable of choosing his course. Accordingly, let us not be sluggards or slothful, corrupt or loathsome, disobedient or lacking in diligence. Rather, may we set our eyes on heaven (Col. 3:2), and constantly look to Jesus (Heb. 12:2). May we know the One we are serving and know where we are going ( (2 Tim. 1:12).
Let us all wisely choose the course for our earthly lives, recognizing that all end at the judgment court of Christ (Acts 17:30-31). Discipleship is demanding, but the yoke of Christ is easy and light when compared with the burdens associated with following sin and Satan (Acts 17:30-31; Matt. 11:30; 23:4; Luke 11:46; Isa. 46:1). For additional study on "easy," please consider the following passages (Prov. 3:17; Mic. 6:8; Acts 15:10, 28; Gal. 5:1; 1 John 5:3). On "light," please compare these verses (John 16:33; 2 Cor. 1:4-5; 4:17; 12:9-10; Phil. 4:13).
Author Bio: Bill H. Reeves, born October 24, 1925, was a faithful husband for 67 years, a caring father of 8 children, and a faithful gospel preacher (in English and Spanish) for over 70 years. He passed from this life on April 4, 2019.