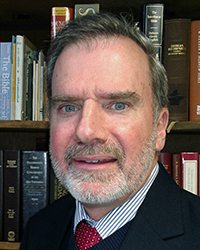 ---
FAITHFULNESS #5: Book Reviews
by Chris Reeves
Synopsis: Chris offers candid and insightful reviews of three books that New Testament Christians will find helpful.
---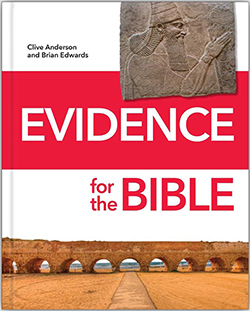 Evidence for the Bible
Evidence for the Bible. Clive Anderson and Brian Edwards. Day One and Master Books, 2018. 252 pages, hardback. ISBN: 978-1683-441113
From its beginning in the early 1800's to the present day, archaeology has been used by many Bible students to confirm the historicity of the Bible and to illumine its stories. In a new book, Evidence for the Bible, Clive Anderson and Brian Edwards continue the long legacy of documenting archaeological finds that demonstrate a correspondence between the biblical record and historical fact. From ancient creation and the flood stories in Genesis to the seven churches of Asia in Revelation, and many places in between, this book outlines major archaeological finds over the past 150 years that validate and illuminate the Bible account. Recent finds, such as the remains of Khirbet Qeiyafa (2007), are also included in this work. Anderson and Edwards are careful and honest. They do a fine job of answering the modern "minimalist" skeptic who doubts the accuracy of the Bible. Yet, they are also careful not to claim more than the facts and evidence allow. This book contains many beautiful pictures of archaeological finds. More than 20 helpful extended notes pages are found at the end of this book. These pages include special studies, lists, timelines, and a scripture index. Evidence for the Bible is a beautifully-illustrated, up-to-date, and easy-to-read introduction to the world of biblical archaeology.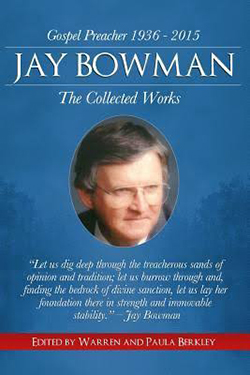 Jay Bowman: The Collected Works
Jay Bowman: The Collected Works. Warren and Paula Berkley, Editors. Privately published, 2016. 433 pages, softback. ISBN: 978-1523-327010
Jay Bowman (1936—2015) preached for many years in Odessa and Abilene, Texas. While preaching, brother Bowman did much writing in church bulletins, tracts, lectures, and religious journals. Some of his best writing has now been compiled and edited with great care by Warren and Paula Berkley and put into print for all to profit. When brother Bowman wrote, he was biblical and plain. You can see a "tell-it like-it-is" approach when you read his articles. This forthrightness is lacking among some Bible writers today. The Collected Works contains many good articles by brother Bowman. These articles are grouped together by category and they cover such things as Bible characters, Greek word studies, practical encouragements, commentary, devotional material, doctrinal studies, and more. His series on fellowship and on adultery, alone, are worth the price of the book. One of the articles that I enjoyed especially had to do with how all of us are authors writing our own book of deeds that will be read one day in the judgment. Get The Collected Works. Bible commentators will learn how to write exceptionally, Bible students will learn how to study accurately, and Bible believers will learn how to grow spiritually.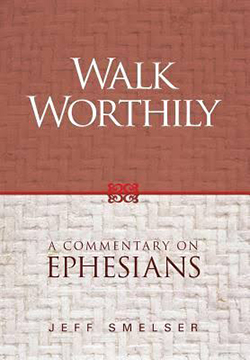 Walk Worthily: A Commentary on Ephesians
Walk Worthily: A Commentary on Ephesians. Jeff Smelser. Deward Publishing Co., 2017. 273 pages, hardback. ISBN: 978-1936-341948
Jeff Smelser, who preaches for the Exton church of Christ in Exton, PA., has published a good exegetical commentary on the book of Ephesians. Of course, those who use commentaries regularly will immediately want to know how Jeff's commentary is different from those they already own. First, Jeff is a student of NT Greek; he works directly from the Nestle-Aland 28th edition of the Greek text, and he provides his own careful translation of the text. Any Bible student can profit from this commentary, but the first or second year Greek student will especially benefit from Jeff's use of Greek grammar and exegesis. One would do well to pay close attention to Jeff's own translation as it differs, at times, from the standard translations. These differences offer great insight into the text. Second, in his introduction, Jeff provides an excellent comparison between Ephesians and Colossians and an extensive defense of the "encyclical" letter approach to Ephesians (i.e., the letter was intended especially for Gentile Christians in Ephesus and in the surrounding area of Asia and Galatia). These two matters are often missing in other commentaries on Ephesians. Third, Jeff does not insert Calvinistic ideas into his explanation of the text so frequently found in commentaries published by Evangelicals. Will you agree with everything Jeff writes? Perhaps not. Will you look for a specific comment from Jeff about a specific matter that interests you and not find it? Most likely. Yet, this is true of any commentary. Overall, Jeff has attempted to analyze this great book about God's glorious church in a careful, insightful, and practical way. Read Walk Worthily and it will greatly enhance your study and understanding of Ephesians.
Author Bio: Chris preaches for the Warfield Blvd church of Christ in Clarksville, TN. His Bible study website is thegoodteacher.com. He can be reached at chrisreevesmail@gmail.com.