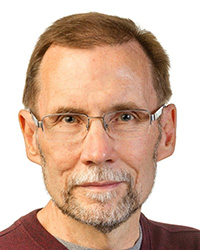 ---
FAMILY: A Tribute to Sherelyn
by Mark Mayberry
Synopsis: Mark reflects on forty years of marriage and offers a tribute to Sherelyn—the bride of his youth and his faithful companion and friend.
---
How do you adequately express appreciation to someone with whom you have shared forty years of friendship and happiness? Sherelyn and I were married in Longview, TX on June 23, 1978. Earlier this summer, we observed our 40th anniversary. Busy schedules required us to postpone our big celebration, but we are soon scheduled to spend two-weeks in Oregon, where we plan to share quiet time together and enjoy the spectacular beauty of the Pacific Northwest.
As I look back on my life, I'm amazed at how quickly time has passed. Indeed, life is a vapor. Most of us fall in love and get married when we are young and inexperienced. I count myself as very fortunate. It wasn't luck. It was the Lord.
Our first home was in Tampa, FL—a small, half-duplex frame house that cost $65/month. Our landlady, aged Mrs. Hattie, and her insane chihuahua dwelt on one side; Sherelyn and I on the other. Mrs. Hattie liked to watch wrestling. On Saturday evening at suppertime, through paper-thin walls, we could hear Mrs. Hattie shouting, "Kill em! Kill em!" At the time, Mrs. Hattie seemed old to us. However, she was only in her 60s. It's all perspective.
The daughter of Ernest and Frances Finley, Sherelyn possessed an innate understanding of a preacher's home. She has always been supportive of my efforts to proclaim the gospel— accepting the ups and the downs, the blessings and the trials, the certainties and uncertainties with assurance and aplomb.
Over the years, we have lived in a variety of communities. Groveton (79-81) and Cooper (86-91) were tiny Texas towns; Tyler, TX (81-86) and Clarksville, TN (91-98) were closer to 100,000. For the past twenty years, our home has been Alvin, TX. Sherelyn adjusted to these different locales—accepting each as home, integrating herself into the community and the local church.
Our first son, Nathan, was born in 1986; Ryan came along in 1991. They have brought such joy into our lives.
Nathan says, "Mom tirelessly serves others. Whether by cooking a meal, homeschooling my brother and me, proofreading an article for Dad, teaching a Bible class, or welcoming others into the home, she constantly attends to others' needs. I appreciate you doing this tribute to Mom. We've all been so blessed by her!"
Ryan adds, "Mom always put God first and taught us to do the same. Like the worthy woman in Proverbs 31:27, 'She looks well to the ways of her household.' She taught us the word of God, and constantly lived as an example of a godly Christian. I can't count the times I've heard Mom singing hymns in the kitchen, shining God's light around our entire home. "
Over the years, Sherelyn has been my friend and faithful companion, my confidant and counselor. We have grown up together, raised a family, rejoiced as our sons found mates of their own, married, and started their own families, and blessed us with grandchildren. We have shared heartache and happiness, trials and triumphs.
Recently, I asked Sherelyn, "What's the key to a happy marriage?" In her straightforward manner, she answered, "Both partners having sacrificial love coupled with kindness, patience, and forgiveness." My wife has lived by these principles: By putting God first, growing and giving, she graces the lives of her family, friends and faithful brethren.
Author Bio: Mark and Sherelyn have labored with the Adoue Street church of Christ in Alvin, TX since 1998, where he serves as the evangelist and an elder. The church website is ascoc.org. His Bible study website is markmayberry.net. He can be reached at mark@truthpublications.com.