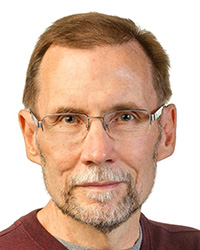 ---
EDITORIAL: So Many Suicides!
by Mark Mayberry
Synopsis: In his editorial, Mark contemplates the large number of suicides that have recently occurred, offering biblical principles and prescriptions for a properly-lived life.
---
Contemplate the following list of notable individuals who committed suicide in the first half of 2018: Stephanie Adams, American former glamour model; Avicii, Swedish DJ and music producer; Anthony Bourdain, American chef and author; David Buckel, American LGBT rights lawyer and environmental activist; Jill Messick, American film producer; Mark Salling, American actor; Kate Spade, American fashion designer; Jon Paul Steuer, American actor and musician, known as the first actor to play the Star Trek character, Alexander Rozhenko.
Sadly, this list is only the tip of the iceberg. According to the American Foundation for Suicide Prevention, suicide is the tenth leading cause of death in the US. Each year 44,965 Americans die by suicide. For every actual suicide, there are twenty-five attempts.
Like the psalmist who said, "As for me, my feet came close to stumbling, My steps had almost slipped," we recognize that life can (at times) be demoralizing and depressing (Pss. 73:1-14; 94:17-19). What is the solution to such despair?
Biblical Examples
Zimri was the fifth king of Israel, who murdered his predecessor, King Elah, reigned for seven days. He then committed suicide when Omri, the commander of Elah's army, besieged and captured Tirzah, the capital city (1 Kings 16:8-20, esp. vv. 18-19).
Ahithophel was one of David's counselors who assisted Absalom in his revolt. When it became obvious that Absalom's rebellion was doomed, Ahithophel hanged himself (2 Sam. 17:23).
Other examples include King Saul and his armorbearer (1 Sam. 31:4-5), and Judas who killed himself because of his shame for having betrayed Jesus (Matt. 27: 3-5).
While some incidents of suicide may result from mental illness, in considering examples from Sacred Scripture, a consistent thread is discernable: this is generally an act of desperation committed by those who are in a state of rebellion against God's established order.
Biblical Principles
Suicide is a violation of the sixth commandment: "You shall not murder" (Exod. 20:13; Deut. 5:17). In every dispensation, the wanton shedding of human blood has been counted as a grave offense (Gen. 9:5-6; Exod. 21:12-14; Matt. 26:52; Rom. 13:3-4).
Because we are made in God's image, human life is sacred (Gen. 1:26-27). David said, "I will give thanks to You, for I am fearfully and wonderfully made; Wonderful are Your works, And my soul knows it very well" (Ps. 139:13-18, esp. v. 14).
Because our bodies are the temple of the Holy Spirit, they must not be defiled or destroyed (1 Cor. 6:19-20). Paul was not a hierosulos, i.e., a temple-despoiler (Acts 19:37; Rom. 2:22). Robbing, desecrating, or destroying temples was counted as a grievous offense among the ancient Greeks and Romans. Should not Christians have even higher regard for their physical bodies, which are counted as the habitation of the Spirit (Rom. 8:9, 11; 1 Cor. 6:19-20; 2 Tim. 1:14)?
Suicide stands in opposition to self-preservation, i.e., the life-instinct that God placed within each of us. As such, it is an act that is against nature; and like other similarly described actions, is against God's ordinances (Rom. 1:26-27, NKJV).
It is an act of finality, foreclosing any opportunity for repentance on the part of self or others. What if Job had yielded to despair, preemptively taken his own life, either directly or through an act of divine provocation (Job 1:20-22; 2:9-10)? If the suffering patriarch had ended his agony prematurely, subsequent generations would have been robbed of a story that inspires us to accept the good with the bad, and to trust in God, and to cling to faith, despite overwhelming odds. Job would have never experienced the joys that came when God restored his family and fortunes (Job 42:10-17).
What if Solomon had given up in Ecclesiastes 2:17 and not persevered until he came to the realization of verses 24-25? Had this wise man yielded to the despair of Ecclesiastes 4:1-3, he would have never reached the helpful recognition of verses 9-12, much less the profound realization set forth in the closing statement of the book.
Finally, suicide can be viewed as an act of cowardice. There is a vast difference between someone, like Job, who longs for death, but patiently submits to suffering (Job 3:20-23; 7:11-18). In his grief and despair, Job asked, "What is man that You magnify him, and that You are concerned about him, that You examine him every morning and try him every moment?" (Job 7:11-18). God actually offers an ennobling answer to Job's question (Psa. 8:4-9).
Biblical Prescriptions
If we live according to the biblical world view, we recognize that life has purpose, enjoy forgiveness through the sacrifice of Jesus Christ, and, accordingly, we have hope. However, if we live according to a secular world view, life has no meaning; we continue to bear the burden of sin, and, accordingly, we have no hope.
A Properly-Lived Life Has Purpose
God endows life with purpose (Prov. 16:4; Eccles. 3:1-15). Jesus Christ lived with purpose (Luke 4:42-44; John 12:27-28). So also did King David (Acts 13:36-37). In like manner, those who obey the gospel find purpose in living (Eph. 1:9-12; 1 Pet. 2:21-25).
Jesus Christ is the answer to aimlessness and misplaced priorities. He provides us with singular vision. Speaking to the rich young ruler, Jesus said, "One thing you lack: go and sell all you possess and give to the poor, and you will have treasure in heaven; and come, follow Me" (Mark 10:17-22, esp. v. 21). While visiting in the home of Lazarus, He said, "Martha, Martha, you are worried and bothered about so many things; but only one thing is necessary, for Mary has chosen the good part, which shall not be taken away from her" (Luke 10:38-42, esp. vv. 41-42). Through obedience to the gospel, Paul also learned this lesson: "One thing I do: forgetting what lies behind and reaching forward to what lies ahead, I press on toward the goal for the prize of the upward call of God in Christ Jesus" (Phil. 3:12-15).
A Properly-Lived Life Has Hope
Jesus Christ is the answer to loneliness. Obedience brings the promise of a loving spiritual family (Matt. 19:27-30). Through obedience to the gospel, Paul shared in this blessing, calling both Timothy and Titus "my true child in the (common) faith" (1 Tim. 1:1-2; Titus 1:4). Furthermore, it extends to all believers (Rom. 8:16-17; 2 Cor. 6:17-18).
Those who are lost in sin have no hope, but believers enjoy reconciliation and redemption in Jesus Christ (Eph. 2:11-22). Those who die as faithful disciples enjoy the hope of the resurrection (1 Thess. 4:13-18).
A Properly-Lived Life Has Pardon
Denying God's reality and rule, foolish men suffer the consequences of their rebellion (Ps. 14:1-7). Yet, the alienation caused by sin is removed through the sacrifice of Jesus Christ (Rom. 3:9-26).
Jesus Christ is the answer to guilt. Obedience brings the promise of forgiveness (Acts 2:38; 5:30-31). He is our perfect High Priest whose sacrifice offers complete pardon (Heb. 10:11-18). If Paul, a former persecutor, could obtain mercy, so also can we (1 Tim. 1:15-16).
Conclusion
Contrast the differing responses of Judas and Peter to their failures. Yielding to despair, Judas went out and hanged himself (Matt. 27:3-5). Yielding to Christ, Peter was restored to faithful service (John 21:15-17). Instead of yielding to despair, let us manifest the attitude, "It is too soon to quit." Otherwise, you may never know the good things that God has in store for you (Acts 16:25-34).
Urging the Colossians to "keep seeking the things above," Paul said, "When Christ, who is our life, is revealed, then you also will be revealed with Him in glory" (Col. 3:1-4, esp. v. 4).
Similar statements frequently occur in the New Testament. Ascribing glory to the Incarnate Word, the fourth gospel begins by saying, "In Him was life, and the life was the Light of men" (John 1:4). Jesus said, "I am the way, and the truth, and the life; no one comes to the Father but through Me (John 14:6). The apostle Paul declared, "Christ lives in me" (Gal. 2:20). Contemplating an uncertain future, he affirmed, "For to me, to live is Christ and to die is gain" (Phil. 1:21-26).
The expression, "Christ, who is our life" (3:4), could be more concisely stated, "Christ is our life." Contemplating the significance of this statement, we recognize an essential truth: God grants us the secret of maintaining balance and emotional equilibrium (Ps. 73:15-28). Christ is the key to happiness. Nevertheless, realization of these benefits requires faith (Rom. 3:21-23) and obedience (Heb. 5:8-10).
Sources
"List of Suicides." Wikipedia. June 17, 2018. Accessed June 17, 2018. https://en.wikipedia.org/wiki/List_of_suicides.
"Suicide Statistics." AFSP. Accessed June 17, 2018. https://afsp.org/about-suicide/suicide-statistics/.
Author Bio: Mark and Sherelyn have labored with the Adoue Street church of Christ in Alvin, TX since 1998, where he serves as the evangelist and an elder. The church website is ascoc.org. His Bible study website is markmayberry.net. He can be reached at mark@truthpublications.com.