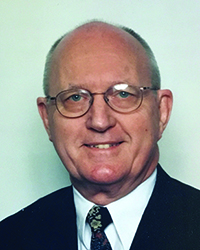 ---
The Epistle of James: "Establish Your Hearts"
by L. A. Stauffer
Synopsis: Being ready for the Lord's return is a fundamental principle of putting on Jesus Christ. Brother Stauffer encourages us in this effort in his examination of James' charge to "establish your hearts: for the coming of the Lord is at hand."
---
Whether writing his epistle to the "dispersion" of Jewish saints living in a world of Gentiles or to Christians in general as sojourners living in the evil world of ungodliness (1:1), James concludes in the final chapter of the letter with a reminder to the brethren that they must prepare their hearts to withstand the wiles and influence of the devil, who, according to the apostle Peter, prowls about as a roaring lion seeking whom he may devour (1 Pet 5:8). In chapter four, James told these brethren that they must "resist the devil" so that he would flee from them and "draw near to God" so that He would draw near to them (4:7-8). His readers, like the dispersed saints to whom Peter wrote, found themselves seeking to live sanctified and holy lives in the midst of greed, fraud, and persecution (5:1-6; see 1 Pet 1:1-2). James' message to them is simple, fundamental, and clear: "Establish your hearts: for the coming of the Lord is at hand" (5:8).
In the opening words of the final chapter, James closes the letter with a warning to the disciples about the ungodly world in which they live, challenging them to prepare their hearts for another world. The words of Jesus in the Sermon on the Mount express James' warning to the brethren, "Lay not up for yourselves treasures on earth... for where thy treasure is, there will be thy heart also" (Matt. 6:19, 21). The "rich" among them who were storing up earthly treasures are called by James to "weep" and "howl" for the miseries that await the end of the covetous lives they were living. The rust of their gold and their moth-eaten garments will, along with the hire of laborers they kept back by fraud, bear witness to their covetous, spiritually idolatrous, and materialistic hearts. The cries of those whom they have defrauded enter the ears of the Lord of Hosts, providing testimony that the greed of these evil men has nurtured and nourished their hearts to fatten them for a day of slaughter at the judgment of God (Jas. 5:1-6).
James' message to them: "Be patient therefore, brethren, until the coming of the Lord. Behold, the husbandman waits for the precious fruit of the earth, being patient over it, until it receive the early and latter rain. Be ye also patient; establish your hearts: for the coming of the Lord is at hand" (5:7-8).
Beyond the need to establish their hearts, James stresses the importance and value of prayer. If brethren are happy, he writes, let them sing praise, but if they are suffering, "let them pray" (5:13). If the need demands, let them call for the elders of the church to pray with them. Let them also confess their sins to one another and pray for forgiveness. He concludes, the "effective prayer of a righteous man can accomplish much." Elijah, James writes, illustrates God's answer to fervent prayers when the Lord responded with a drought in answer to the prophet's prayer for it not to rain and with fruitful blessings in answer to his prayer for it to rain (5:17-18). James completes the chapter by reminding the brethren to reach out to those among them who are in error, knowing that if they convert one from the error of his ways they save a soul and cover a multitude of sins (5:19-20).
Yet, take note of what may well be James' central point in this chapter. He sees the coming of the Lord to be at hand and the need for brethren in preparation for that coming to "establish their hearts" (5:8). Previously, James concludes that brethren in anticipation of the coming of the Lord must be "patient"—a word that means "longsuffering." He reminds them that the farmer or husbandman cannot rush the harvest, but must wait patiently for the former and latter rains before he can receive the precious fruit the soil produces. This denotes the longsuffering that saints must possess as they await the eternal harvest of righteousness and life that God's word, sown in honest and good hearts, will produce at the coming of the Lord. That coming, says James, is "at hand," meaning it could occur "at any time." To prepare for that day of harvest, James says the brethren must patiently establish their hearts.
The practical nature and message of this epistle is now joined to the urgency of being unmovably prepared for the Lord's coming by heartfelt dedication to God's word. James just made it clear in chapter four that man's life is as a vapor that appears for a moment then vanishes. Moreover, with the Lord's return, life may cease at any moment (5:7-8). This calls for a fixed and immovable heart of dedicated faith and commitment to God's will. When the time came for Jesus to go to the cross, He "set" His face toward Jerusalem (Luke 9:51). "Set" is the word James used, and it means to "fix," "establish," or "prepare." Jesus "steadfastly set His face to go to Jerusalem," meaning, He determined in His heart to yield His body and life to lawless and ungodly men who would crucify and slay Him (see Acts 2:23). Luke used this word again when he described the great chasm that was "fixed" in Hades separating the righteous from ungodly souls as they await the day of the Lord's return for judgment (Luke 16:26).
The recipients of James' letter who read it did not have to guess or need not wonder how to fix, set, establish their hearts in readiness for the coming of the Lord. James is clear throughout this epistle that brethren must maintain hearts of joy and patience amidst trials (1:2-4), hearts of faith that refuse to doubt and are confirmed by "works" (1:5-8; 2:14-26), hearts that are not drawn away into sin through evil lusts (1:12-16), hearts that are swift to hear, slow to speak (1:19), hearts that bridle their tongues, and are slow to wrath (1:19, 26), hearts that examine their lives in the perfect law of liberty and abide therein (1:23-25), hearts that love without respect of person and show mercy and compassion (2:1-13), hearts that display meekness of wisdom and humility (3:13; 4:6), hearts that know that life is as a vapor and are focused on today (4:13-16), hearts that display the stability and patience of Job (5:11), and hearts that are fervent in effective prayer as Elijah (5:17-18).
In the final chapter of his epistle, James echoes the statement of Paul: "If then ye are raised together with Christ, seek the things that are above, where Christ is, seated on the right hand of God. Set your mind on the things that are above, not on the things that are upon the earth" (Col 3:1-2).
Author Bio: L. A. Stauffer serves as an elder and evangelist for the Kirkwood church of Christ, in Kirkwood, MO, where he has laboured since 1979. The church website is kirkwoodcoc.org. He can be reached at stof36@bluecotton.com.